Let's start with the finish line - when your company is registered, it will appear on Companies House database, which will allow you to start trading under the company name and open a business bank account.
The service GoSolo offers is only available for opening a private limited company with a single owner/director. If you prefer to be a sole trader (no company registration required), have more than one director at the firm, or need to open a public limited company (company's shares can be bought by the public), then this service is not applicable to you currently, but we are working on this option too.
Registering your company with GoSolo is a straightforward process. Before you start, make sure you have checked the following:
As previously mentioned, your company type will be private limited and you will be the sole owner and director of the company
You have a valid ID document which we can compare against your selfie video
You have a valid UK business address for your company (if you don't have one and you do not reside in the UK, we include virtual office services for 1 year as part of the registration)
Your company does not engage in any of the restricted business activities as specified in GoSolo Terms & Conditions
Register a new limited company in 10 minutes.
Already Ltd? Manage your business account + admin in one app.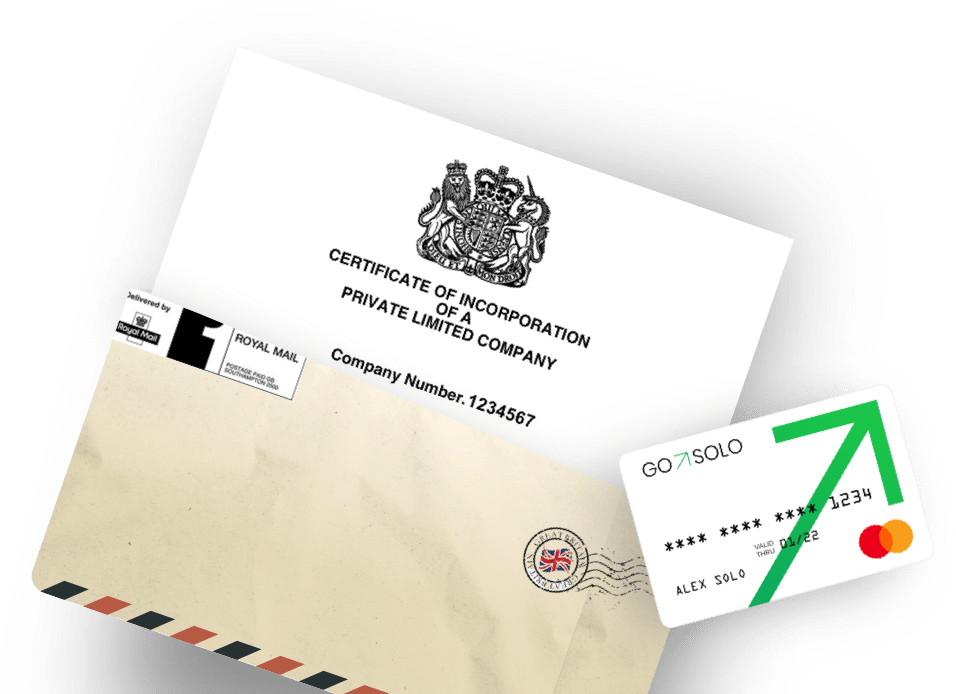 Once you are ready, the very first and most exciting thing you'd need to do is select your company's name. There are a number of rules that you'd need to follow when naming a new company - you can find these here. We will check that your name is not a duplicate of another company's however, you need to be aware of the use of sensitive words (e.g. Royal, Bank), offensive names and trademark names - if these are used incorrectly, your company registration application may be rejected.
Once you are happy with the chosen name, we ask you to complete a short application form where most of the information will be gathered using your provided documents. You'd need to describe your business and its projected revenues. We'll ask you to verify your identity online - using your valid ID document and your selfie. We'll also ask you for your Proof of Address to be submitted online. Finally, we'd verify your phone number for future authentication of your account. Once your application is completed, it will be sent over to Companies House automatically to register your company officially. And once that is done, you'll also receive your GoSolo business bank account.
The whole process may take up to 5-5.5 working days:
Fill out an application: 5-10 mins
Register company: typically 1 working day
Open business bank account: under 1 hour
If you still have questions about the GoSolo application or anything else related to registering your company, do not hesitate to contact us!
Download the GoSolo app today.
Available on Web, iOS, and Android.