There are many examples of companies using trading names while doing business. PricewaterhouseCoopers International Limited, based in the UK, operates under the trading name PWC. It adopted the trading name in 2010 and reworked its logo to resemble its brand name. Papa John's International, the fourth-largest pizza chain in the US, does business as Papa Johns.
In December of 2021, Facebook underwent a name change and is now Meta Platforms, Inc. The company still does business and identifies as Facebook, their registered trademark.
Your UK enterprise doesn't need to grow to a mammoth size to operate under a trading name. But before opting for a trading name vs company name, it's only fair to grasp the benefits of this decision, along with any potential pitfalls. That's the gist of today's article, and let's get started.
What is a Trading name?
So, the trading name is a name that a business opts to use when carrying out business activities, and it differs from the registered name found on the Companies House's registry. It's also referred to as the 'business name.' If the trading name is predominantly used, it means that customers may recognize the company's services and products or assets by its business name. For instance, many UK customers know of Skittles and often use the name in reference to the actual company, that's registered as the Wrigley Company. But you'll find the company using the registered trademark, even on its social media page to identify itself. So that essentially tells you that the trading name may be the name the public sees and engages with, but it's not actually the official name on the company documents. It serves various purposes such as helping the business to create a cohesive brand across its products and online assets. You can have a registered company name but use a trading name for your website and socials. Famous trade names are typically registered trademarks.
Trading name rules
While there seems to be a lot of liberties given to the trade name, in actuality, there are trading name rules that founders need to follow. First, the names should never include the terms LLP (Limited liability partnership), LTD (limited), or PLC (Public limited company). Such suffixes may only be attached to the actual company name.
Trading names must not include any sensitive expression or word. Some examples of sensitive words and expressions that demand prior approval before use include:
Accredited (or accreditation, accredit, or accrediting)
Adjudicator
Association
Benevolent
Charity
Charter
Council
You can find more sensitive words here with explanations about why their use is prohibited.
One of the most consequential rules is that the desired trading name should not come across as being too similar to a registered company trademark or name.
Register a new limited company in 10 minutes.
Already Ltd? Manage your business account + admin in one app.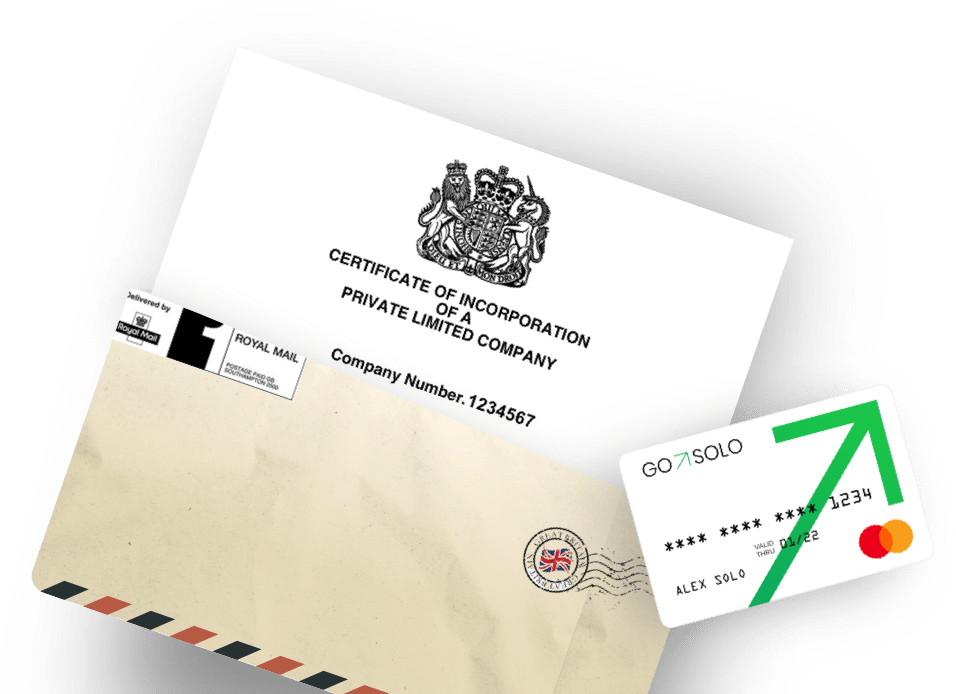 Choosing a Company name and Trading name
If you have a registered company, you may have some familiarity with how to come up with a company name.
In summary, the business owner starts by brainstorming a couple of potential name ideas. They may carry out some preliminary research on the web to ensure that names don't bear similarities to existing registered companies. Gov.UK even provides the Company name availability checker tool that businesses can use to check if their proposed company names are available.
The Company Act 2006 also spells out other restrictions businesses need to keep in mind when selecting their company name, for instance:
Restrictions on the utilization of certain signs, symbols, characters, and punctuation marks
The requirement is that all private company names should end with the term LTD or limited
Now, for more guidelines and restrictions on how to register a company name, consider referencing the incorporation and names resource.
But how actually do you choose a trading name for a business? Remember that the trading name is also meant to enhance the profitability of the business and its popularity. Consider the following helpful suggestions:
Keep the name simple and easy to spell (makes your social media pages and company site quick to find)
Don't have a long name or include puns
Make the trading name relevant to the industry (name can hint at the product or service)
Don't lean heavily on cliches (Calling a candy store the "Sweet Spot.")
Catalogue names that appeal to your desired target audience
Have some originality
Use the company name availability checker from gov.uk along with other resources to check if the name is original
Before settling on a name, use a domain checker or name search to see if it's available to reserve as a .com or .uk domain
Similarly, check if the name is available for use as a username on Facebook, Instagram, and Twitter
Because trading names are not reserved but protected by trademarks, it may be common to find businesses sharing the same trading name or having business names that are too alike, particularly if they are operating as sole proprietorship businesses.
You need to research widely to keep the name original, for instance, by checking local online business directories, contact lists, social media, and more.
Note that if the trade name is not trademarked, it's quite possible for a newly registered company to steal the trading name and use it as their company name. That's why Gov.uk further recommends seeking advice from trademark attorneys or solicitors with speciality in intellectual property law.
You may need to register a trading name with the Companies House. Even the HMRC may need to know your "doing business as" name.
Which one to use: Company or Trading Name
At this point, it is pretty much clear that there might be benefits and drawbacks to using the trade name. Let's begin with the benefits:
Trade names allow businesses to build memorable brands by using simple and easy to remember names in their messaging, products, packaging, websites, and social media
Business names offer a company with many operational areas a chance to compartmentalise its operations or distinguish different divisions of a company
Trading names offer flexibility when it comes to rebranding
Now, there are some key challenges to using a trading name:
Businesses may end up using too similar names, which may be a point of contention
There are no stopping others from using the trading name even after the business registers it with the Companies House
It's only through the formal process of company name registration that a company may prevent others from using their company name
Trading names may bring confusion as the official company documents and letterheads may only bear the registered name
If you were planning on adopting a trading name but now find that the drawbacks are too overwhelming, you can consider learning how to change a limited company name. Now, companies may change their names after the shareholders pass a special resolution or amend the company's articles of association to provide permission. The Companies House online service allows a company to file for the name change by special resolution.
If you're thinking of forming a new company in the UK, choose GoSolo for a convenient online formation process and free business account!