GoSolo is now available for international entrepreneurs who want to access the benefits of basing a business and business accounts in the UK. .GoSolo Global Account slashes the cost and time of setting up a business in another country. Removing the complexity, the need for lawyers and a UK address all at a fraction of the cost usually associated with this process.
The GoSolo Global Account includes a UK registered Limited Company with a UK virtual address, a business account with Mastercard debit card, and a host of additional features selected specifically to make entrepreneurs' lives easier.
Why the UK?
The UK is the perfect destination for you to set up a business with four key pillars making it an attractive home for your company: Tax; Talent; Innovation and Infrastructure. It is the world's 5th largest economy. London is a world financial hub.
UK companies raised over £38.9 billion of Venture Capital investment in 2021 with a thriving Angel investor community and more Unicorn Companies than the rest of Europe combined.
Supporting this demand and growth, GoSolo aims to make the process of setting up and managing a business as simple as possible for international founders.
Register a new limited company in 10 minutes.
Already Ltd? Manage your business account + admin in one app.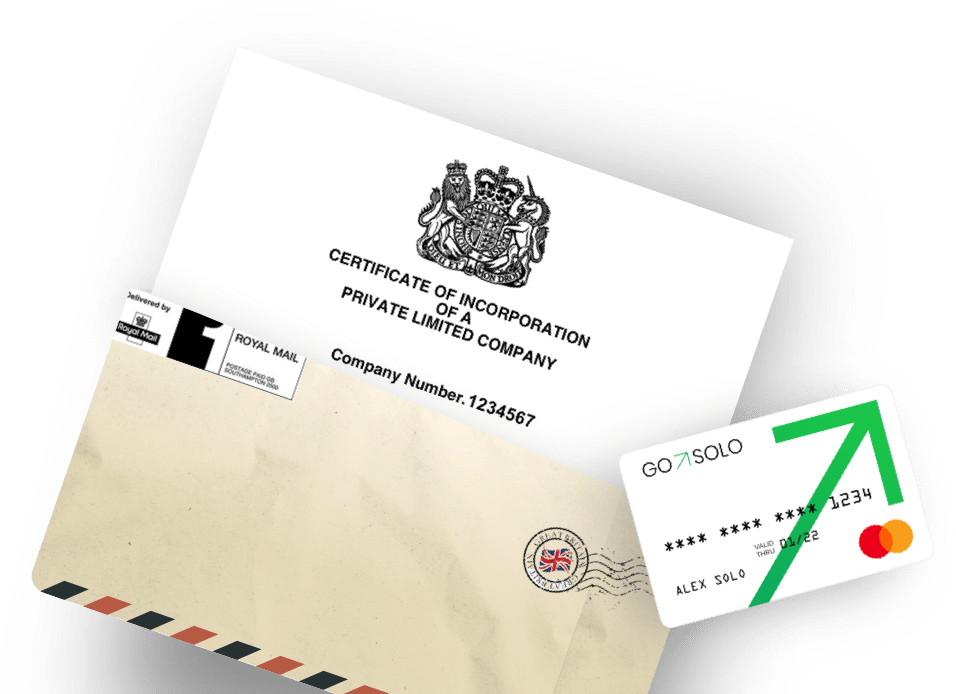 Why GoSolo?
GoSolo is for entrepreneurs, founders and people who dream of running a business. These communities are global and that's why we have introduced our GoSolo Global Account.
Using the UK as our hub, a recognised global centre for start-ups, entrepreneurs and investors, we have removed all the barriers for international entrepreneurs, streamlining the process into one simple package that will have you up and running in no time.
No UK business address? No problem. GoSolo provides non-Resident businesses with a virtual UK business address to use when setting up your Limited Company.
Worried about the time and cost it takes to apply? Relax! GoSolo has simplified your application making. It is about ten times quicker (just 15 minutes) and ten times cheaper (only £250 a year for everything) to get set up in the UK with GoSolo, leaving you free to focus on the task at hand.
Need to access your funds quickly from wherever you are? Easy! You will be provided with a Mastercard debit card once you're set up.
We have wide ranging tools and features to make GoSolo the go-to account for entrepreneurs from the UK and overseas:
In addition to these excellent features, we have linked up with a number of must-have partners to make your business journey as smooth as possible. GoSolo has partnered with a number of key delivery tools to help make setting up your business and get started as smooth as possible:
Grammarly – to ensure everything you write comes across the way you intend.
Stripe – online payment processing for internet businesses.
Superscript – flexible online insurance cover for small businesses.
Swoop – simple and speedy access to business finance.
Xero – online accounting software for your business.
With GoSolo, you can focus on building the company you have always dreamed of.
Download the GoSolo app today.
Available on Web, iOS, and Android.