When you check out one of the UK high-street banks' requirements to open a business bank account, the amount of documentation you are asked may remind you of 4 Privet Drive letterbox. If you manage to pass Step One of collecting all the documentation, Step Two can be harder: you may be asked to wait for an outcome of your application for 6 weeks or more, sometimes you may be required to book an in-person appointment. It is no wonder then that the whole process can generate enormous amounts of unnecessary stress and anxiety.
In this blog, we will try to answer some of the key questions about opening a bank account in the UK for start-up businesses.
Do I need to apply in person for a business bank account in the UK?
Whilst there are some UK high-street banks which may require you to book an in-person appointment, there is a plethora of digital and online-first financial providers.
To open an account with a digital financial provider, you can submit your application online without having to leave your office or your living room (or wait weeks for an in-person appointment).
GoSolo is one of such providers – to apply for a GoSolo business account, you can submit all your information online via our web or mobile app.
What information do I need to have at hand to apply for a business bank account?
The requirements for opening a bank account for start-up businesses are a bit different from the ones for standard personal accounts.
You may need to supply business details such as the company registration number, registered office address, VAT number (if applicable), or incorporation date.
If your business has multiple partners or directors, you may also be required to provide their details, including names, addresses, National Insurance numbers etc.
If you are a sole trader, you may be asked to provide documentation to show that your business is active e.g. HMRC correspondence, a letter from an accountant, business premises rates bill etc.
At GoSolo we simplify the application process as much as possible – by pulling all the required company information directly from Companies House so you do not need to spend time looking around for this information yourself. GoSolo does not support sole trader accounts, however, if you want to step up your business and register a private limited company, you can do so via GoSolo.
What documents do I need to provide to apply for a business bank account?
Depending on the bank or financial institution you apply for a business bank account at, the documentation requirements may be different.
At a minimum, you will be expected to prove your identity and show a proof of your home address.
Proving your identity may require providing a copy of a valid ID document such as passport, identity card, driving license or other form of ID. You may then be asked to present yourself, either online or in person to check that the ID document belongs to you. This is done to essentially prove that you are who you say you are.
For proof of address, you may be asked to send or show a copy of your recent bill or bank statement, which clearly show your home address. We've discussed different types of documents that can be used for proof of address in the UK in a separate blog post.
Register a new limited company in 10 minutes.
Already Ltd? Manage your business account + admin in one app.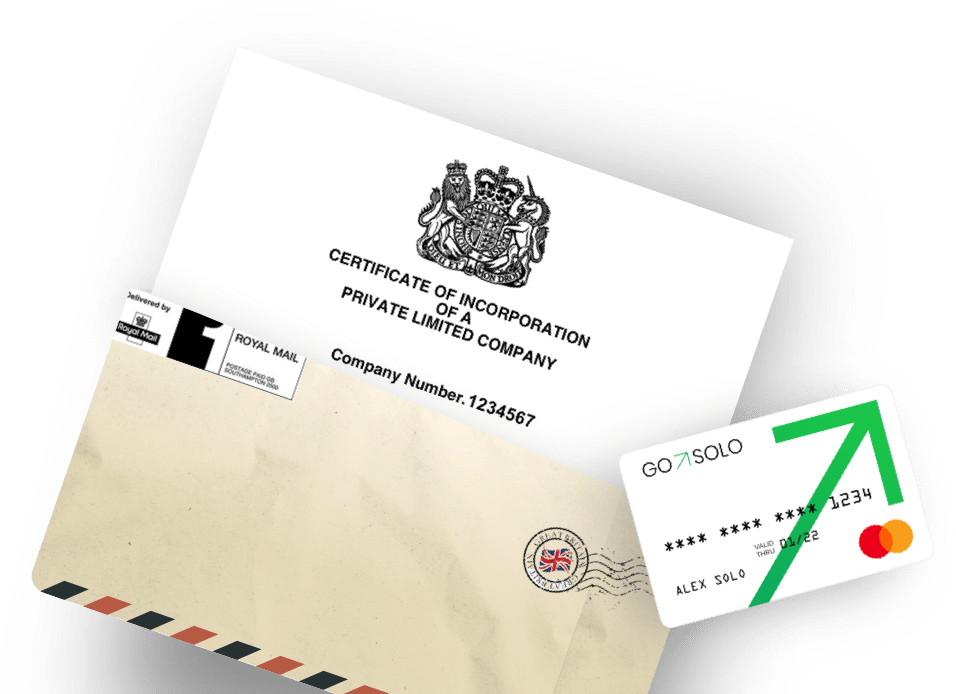 How long will it take to open a business bank account?
Depending on the bank or financial institution you are applying with, it can take 1 to 4 weeks before you get a business bank account. The process can take much longer if you have to complete it in person — there will be an introductory meeting to attend, along with gathering and submitting the required documents.
With GoSolo, it may take as little as 10 to 15 minutes to open a business account. Just saying :)
The majority of GoSolo account applications are processed within 1 working day so you can know the outcome of your application on the next working day. This may allow you to focus on more value-add activities for your business rather than wait around for the outcome of your application.
How much does it cost to open a business bank account?
For small start-up businesses, the cost of opening business bank account is often zero. There are lots of different offers for business bank accounts out there. One thing to note when choosing a business bank account is to check carefully monthly account fees and applicable account restrictions. Account restrictions could include limits on what features are available in a free package, the number of transactions you can send or receive within a month, level of support available. Depending on what matters to you, you may decide to pay a one-off cost to open a business bank account in order to have free limitless transactions or opt in for a free business bank account with less premium features for occasional use. You can find information about GoSolo account fees on our Pricing page.
Are there any difficulties with opening a business bank account specifically for a start-up business?
There are a lot of guides and information online about how to open a business bank account, different types of business accounts, comparison between banks and other useful information.
The one thing that is not very well covered is the difficulty that start-up businesses can face when applying the generic advice to their circumstances. The reality is that often if a business has only recently started trading or have not done any activity awaiting for a business account, banks and financial institutions may have difficult time verifying and trusting a new business due to the lack of information about business trade. So oftentimes there is a catch 22 – when a bank asks for proof of business activity and start-up wait for a business account to start business activity. And this is precisely the reason why especially start-ups may be asked for additional information – this is done in order to verify the business is legitimate and can be trusted by a bank or financial institution.
GoSolo specialises in business accounts for UK start-up businesses. We understand what you are going through and focus on alleviating the pain of administrative management of your start-up as much as one business account provider can. We constantly ask for feedback and update our Apps to introduce services that YOU ask for rather than what "we think is good for you". You can find out more information about GoSolo account here.
Download the GoSolo app today.
Available on Web, iOS, and Android.